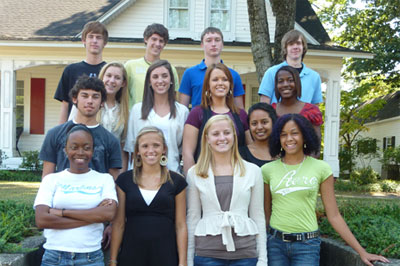 GET INVOLVED…..HAVE FUN
MAKE A DIFFERENCE
YOUTH UNITED
Youth United Needs YOU!
Become involved beyond your high school level and meet other area high school student leaders. We help coordinate the fund distribution process, volunteer opportunities, and youth focused seminars as well as serve as the liaison with our respective high school clubs.
Applications are available in January and due March 31 st. Selected students participate in a leadership seminar and begin their one year term in July. The YLC meets monthly. The President of the YLC also serves as a student member on the United Way of Sampson County Board Of Directors.
| | |
| --- | --- |
| | |
| Laura Bradshaw (Clinton) | Camille Carr – President |
| Camille Carr (Clinton) | Aurelia McAlister - Secretary |
| Willie Davis ( Lakewood) | Zack Sargent – Vice President |
| Joshua Haight (Midway) | Kyle Smith - Treasurer |
| Lauren Huff (HCA) | |
| Aurelia McAlister (Hobbton) | |
| Emily Mitchell (Midway) | |
| Nancy Sandoval (Hobbton) | |
| Kaleb Sargent (Clinton) | |
| Zack Sargent (Clinton) | |
| Kyle Smith (Union) | |
| Elizabeth Smith (Midway) | |
| Krystal Smith (Midway) | |
| Hannah Verrilli (HCA) | |
| Elizabeth Waters (Union) | |
| Alan Westbrook (Hobbton) | |
MESSAGE FROM YLC PRESIDENT