The electronic voting has ended. However, we will be accepting cash votes at our booth on Saturday, October 9th at the Court Square Street Fair until 4:00 p.m.

Come see our 24 delightful pig sculptures sponsored by the community and painted by local artists. Visit the local downtown Clinton area and see eighteen of these fine swine. Seven pig sculptures are placed in other prominent spots around town as well. Please see the attached map for all the pig locations.
I'M FOR SALE! : Five hogs will be auctioned at the Court Square Street Fair on October 9 th. Funds raised are used to support agencies and programs right here in Sampson County.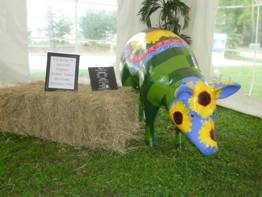 Don't forget to VOTE for your favorite pig to win the "Hammy Award!" The two hogs with the most votes on October 9th will appear in the Clinton Christmas Parade. VOTES ARE $1 EACH. Votes may be purchased in increments of one dollar such as $5.00, $8.00, $20.00, etc. Vote by clicking on the Vote Now link on the left.
VOTE NOW AND VOTE OFTEN!